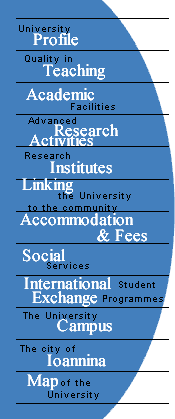 Undergraduate Studies - Postgraduate Studies - Vocational Training

Undergraduate Studies

The undergraduate degree programmes (with the exception of the School of Medicine, the School of Science and Technology and the School of Natural Resources in Agrinio) are four year programmes all leading to the degree "Ptychio".
Medical students complete their studies in six years, students of the School of Science and Technology and students of the School of Natural Resources in Agrinio, in five years.
The academic year is structured in semesters (this does not apply to the Elective Study Programmes); Fall Semester starts in the last week of September and ends in the last week of January; Spring Semester starts in mid February and ends in the last week of May. A two-week examination period follows both semesters.Students are given a second opportunity (for re- examination) in the courses they have failed in the previous academic year, during a three week period each September. A significant number of students complete their studies at the minimum time required by each Department.
The study programme in all the Departments usually includes four to six courses per semester and requires approximately 18 to 25 hours per week including lectures, laboratory work or other training facilities. Two thirds of the courses in the programme are mandatory; the rest can be selected from a long list of electives in the Department's curriculum-or other Departments.
In this way, apart from the basic knowledge in each discipline, students are given the option to study selected topics of their own academic interest.

Postgraduate Studies

All the Departments of the University offer one or more postgraduate degree programmes leading to a Master's Degree or to a Doctoral Degree. A full programme leading to a Master's Degree usually requires four semesters of courses including a research project. A Doctoral programme requires an additional two or three years of research work, under the supervision of a senior staff member. Both Master's and Doctoral Degree programmes require a final dissertation or thesis to be undertaken by the students.
Postgraduate students are normally accepted through examinations, organised by the individual Departments every September and in some cases in February. Candidates should contact directly the individual Departments for further information regarding entrance requirements in the postgraduate programmes.


See Also
Postgraduate Studies page

Vocational Training

The educational activity of the University of Ioannina is supplemented by the Vocational Training Centre which provides courses in different areas such as computing, food chemistry etc.